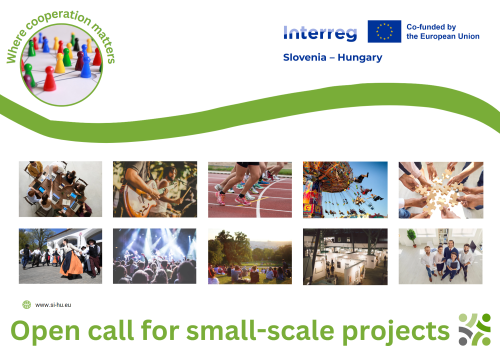 Do you wish to participate in a civil society cooperation project across border in order to increase the level of mutual understanding, to strengthen individual relationships or to create a new cooperation between organisations? Then you're in the right place. As part of the Interreg Programme Slovenia-Hungary in the period 2021–2027, the Open Call for proposals for small-scale projects will be published on 26 May 2023.
Co-financing will be provided for mutual trust-building projects with the following thematic focus to strengthen cross-border cooperation:
cross-border cooperation in arts and culture;
cross-border sports events (tournaments, festivities, camps);
cultivation of traditions of minorities;
promotion of trust and intercultural dialogue;
promotion of cross-border inter-generational solidarity.
Under this call, the following three types of small scale-projects will be supported:
Type I – cooperation projects based on unit cost
Type II – mutual trust-building projects based on lump sum
Type III – employee exchange projects based on lump sum.
The first deadline for submitting project applications will be 28 July 2023. All relevant guidance and information will be published together with the Open Call. Workshop for applicants will be held in Hungary on 20 June 2023.
More information: Factsheet for small-scale projects
More information about the programme and open calls can be found on the programme's website. www.si-hu.eu