no images were found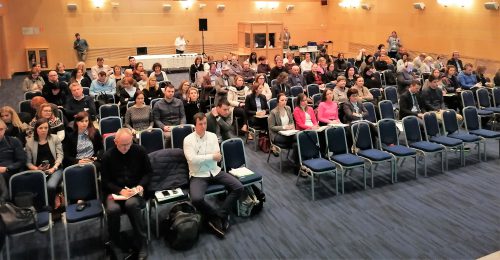 The first bilateral workshop organised for applicants of the Open call for Project Proposals for standard projects in the frame of the 1
st
deadline of the Interreg programme Slovenia-Hungary for period 2021-2027 was successfully completed at Habakuk Hotel, Maribor on 5th April 2023. Altogether 110 participants were curious to get to know the Slovenia–Hungary Interreg programme in great detail. A short musical performance was part of the opening ceremony, followed by a panel discussion in which representatives of the lead/project partners of projects funded under the 2014–2020 programme, the programme evaluator and programme staff shared their thoughts, good practices with the audience and this way symbolically opened the door to new project ideas.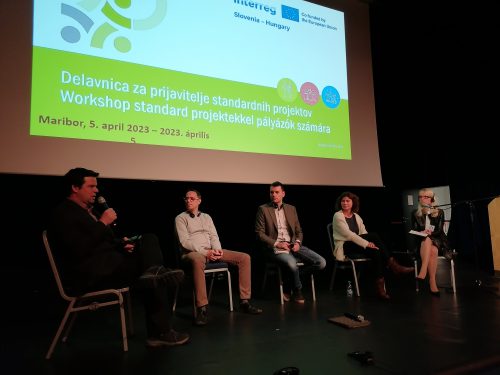 After the opening, the event turned into a workshop, during which the Programme Manager and Joint Secretariat briefly presented the Interreg Programme, some information concerning the Open Call, the Rules on the eligibility of expenditure, the requirements concerning communication and visibility, the Joint Electronic Monitoring System (Jems) to the participants, in which applicants will submit their project applications as well as the annexes to the application form. In order to make the workshop more active, presenters called the participants' attention to taking the opportunity of raising concrete questions online on Slido which were answered at the session dedicated to the Questions and Answers in the afternoon. The collection of Q&A will soon be uploaded on the programme website under the FAQ section of the Open Call in three languages.
In the frame of the Open Call, an amount of 11,4 million EUR will be available for standard projects from the European Regional Development Fund. The first deadline for submitting the standard project proposals is the 8th May 2023 at noon.
Downloadable material from the presentations given at the event can be found here.