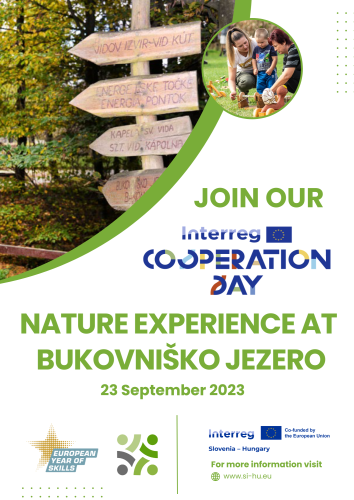 You are invited to attend the "Nature Experience at Bukovniško jezero" event (Bukovniško jezero, Slovenia) on Saturday, 23 September 2023 in the framework of the Interreg Cooperation Day (IC Day) 2023.
The event is organized by the Ministry of Cohesion and Regional Development of the Republic of Slovenia in the framework of the Cross-border cooperation programme Interreg V-A Slovenia-Hungary in cooperation with the projects GardEN, Wine Picnic and TELE-KA-LAND.
The day will start with welcoming speeches, accompanied by a cultural programme.
At the event a welcome speech will be delivered by Dr. Aleksander Jevšek, Minister of the Ministry of Cohesion and Regional Development, Aleš Mrkela, Head of Managing Authority of the Interreg programme Slovenia-Hungary, Marjan Kardinar, the Mayor of Dobrovnik and Sašo Koca, the Vice-mayor of Moravske Toplice. Besides, Mayor of Lenti László Horváth, will also welcome the participants.
We will set off in high spirits on a 4.5 km long hike in the surrounding hills. Three projects, TELE-KA-LAND, GardEN and Wine Picnic, co-financed by the Interreg V-A Slovenia-Hungary Cooperation Programme, will provide entertainment and interesting presentations during the hike. The presentation of project Wine Picnic at »cimprača« in Strehovske gorice will be followed by wine tasting and local homemade delicacies accompanied by accordion music.
Lunch will be provided after the hike at the lake where participants can take part in handicraft workshops, listen to a presentation on herbs, be part of activities with the games of the TELE-KA-LAND project, and may have a ride on the tourist train for a short wine tasting in Dobrovnik in the wine shop which was created as part of the Wine Picnic project. There will be stalls around selling handicrafts and local delicacies.
The event is free for the participants. Thanks to the organisers, bus transport from Slovenia and from Hungary will be guaranteed. The hike will be accompanied and food will be provided, so you only have to bring your good mood!
As the number of participants is limited, we kindly ask you to register as soon as possible. The registration is open till 18 September 2023.
Participation at the event is at your own risk. If you join us and you will need to cross the border, please make sure to carry the valid identity document (ID card, passport). Keep in mind that the official currency in Slovenia is euro (EUR). Please ensure that you are dressed appropriately for hiking.
You and your family are invited to join us and get to know our programme area!
For more information about EC DAY visit the following website: https://interregcooperationday.eu/
In case of questions please contact us: +386 1 400 3162.
We are looking forward to meeting you!
Interreg Programme Slovenia-Hungary