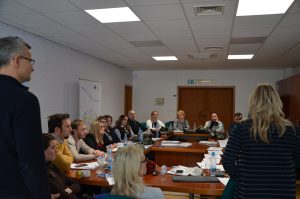 The Government Office for Development and European Cohesion Policy (GODC) in the role of the Managing Authority (for cross-border cooperation programs Interreg V-A Slovenia-Austria, Slovenia-Hungary and Slovenia-Croatia) hosts three-day study visit of the representatives of executive bodies of the cross-border cooperation program Kosovo-Macedonia 2014 -2020, carried out under the Instrument for Pre-Accession Assistance. Apart from the members of the Joint Secretariat of this cross-border program, the representatives of the ministries of local self-government from Kosovo and Macedonia, the visiting ministers, Ivan Todosijevic (Kosovo) and Suhelj Fazliu (Macedonia) attended the visit in Slovenia. Minister Alenka Smerkolj welcomed the delegation and presented them the experience of the Republic of Slovenia in the field of managing cross-border cooperation programs with neighboring countries and in the implementation of the European cohesion policy, through which European solidarity is, in its view, pursued.
The guests were presented the institutional structures for managing cross-border cooperation programs, measures for better program management and the elimination of administrative burdens for beneficiaries, information and information activities, information system (eMS) and fulfillment of criteria for e-cohesion and examples of co-financed projects.
The guests pointed out that the experience of the presented programs is comparable for them, they are directly transferable and therefore extremely useful in practice. They expressed their wish for further exchange of experience in the field of development planning and implementation of cross-border programs, and both ministers agreed that cross-border cooperation programs are extremely important for them, as they contribute to the coexistence of the inhabitants in the border area, and allow the beneficiaries (municipalities) to obtain direct experience with the implementation of projects co-financed by the EU funds already in the pre-accession period.