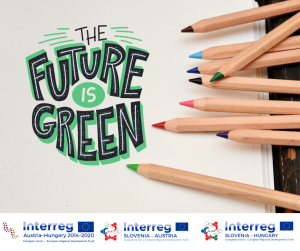 Being outside in the nature, explore the magic of trees, flowers, insects, birds is priceless. Our natural heritage is something which is invaluable, and irreplaceable therefore we have to protect it.
It is on us, adults, to show a good example to the kids around us. We can show them the treasures around us, we can educate them about the natural habitats, we can teach them to be more conscious with waste and wiser with water consumption.
Every year on the 22nd April we celebrate the Earth Day. This year we have planned something special.
We invite elementary school kids to show off their talents in drawing, photographing, video creating, painting or in any other easy to publish way related to the topic "Future is green". We would like to encourage you to reach out to elementary schools, or pupils individually in your network to participate in the joint contest of the Austria-Hungary, Slovenia-Austria and Slovenia-Hungary Interreg Programmes.
You can easily upload your artworks via our online registration form: http://www.si-hu.eu/en2/the-future-is-green/
For the detailed rules and terms of conditions you can reach the call in Slovene and Hungarian and the Terms of Conditions in English here.