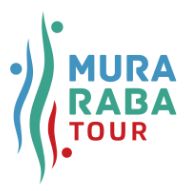 Between February 27 and March 1, the 43rd Utazás Kiállítás International Tourism Fair was held at the Hungexpo in Budapest, one of the largest and most important fairs of its kind in Hungary. Together with local tourism providers, we were also part of the Mura Raba Tour project partners.
The aim of the fair was to present the region between Mura and Raba as a tourist destination with numerous leisure activities, thematically linked to four different programs, namely equestrian, water tourism, cultural tourism and hiking. These are completely new bearing themes that have not yet been used in our area and enable active leisure in rural and tourist-deprived regions of the project area. The water program offers the experience of the Mura and Raba rivers from a raft or canoe, an equestrian program offers horseback riding and horseback riding along the former "Iron Curtain", hiking program the possibility of hiking along the border guard with a display of life of border guards within the permanent museum collection Border Guardians and the cultural program the discovery of the mysterious history of the rebellious Kuruc.
The joint presentation of the Mura Raba Tour project took place under the auspices of the project partner Tourist Association Monošter, and the event was also attended by other partners. Among the first visitors to our booth at the fair we had the opportunity to receive the Ambassador of the Republic of Slovenia in Budapest, dr. Robert Kokalj, who welcomed the cross-border cooperation between Slovenia and Hungary with enthusiasm. Participation in the fair was a great opportunity for promotional purposes for the newly created thematic tourism programs, and was assisted by multilingual promotional materials such as a tourist map, leaflets, a directory of local tourism providers, flags and billboards with photographs of natural and cultural pearls of the cross-border region. The fair, with a total of more than 400 exhibitors, was visited by more than 35,000 visitors from Hungary and other European countries.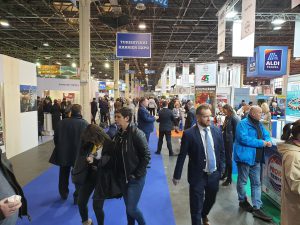 After a successful presentation in Budapest, our thoughts are already focused on the following tasks. As early as March 7, 2020, we are organizing the "Mura Raba Tour Day" at the Seiersberg Shopping Center near Graz, Austria.
The project Creating and marketing of a new cross-border product of active tourism as an integral part of the modern tourist offer between Mura and Rab, with the acronym Mura Raba Tour, is co-financed by the Interreg V-A Slovenia-Hungary Cooperation Program 2014-2020.
More information about the project is available at: http://www.si-hu.eu/murarabatour/